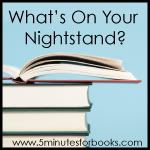 I'm starting to accept the fact that life with an infant and a preschooler means I just can't read as quickly right now. I typically read before bed, usually getting down to read around 9:30pm. By ten o'clock I am usually half asleep already which means I've got about 30 minutes on most nights to read. Not a lot. All that said, I've been averaging about 2 books a month or so which I guess isn't terrible it just means it's going to take me a lot longer to weed through my growing longer every day TBR pile.
Here are the books I've read since my last nightstand post:
Lioness Rampant by Tamora Pierce – Finished September 24, 2009 – It seems like all of Tamora Pierce's books are difficult for me to settle into initially and then impossible to put down. So glad I finally got around to finishing the last book in this great quartet. I think this series is a great coming of age tale with lots of great science fiction and action adventure thrown in but after the first book I think it might be too racy for a younger audience. Definitely an older teen read in my mind, but I guess it depends on the girl reading it.  – full review -
Queste by Angie Sage - Finished October 23, 2009 - I always enjoy the Septimus Heap series and this one was definitely no different. I love how the story is progressing and it's always fun to read about magyk and physik especially how the two fields cannot get along at all. I thought the whole "place where all times do meet" thing was very cool and of course now I'm really looking forward to reading Book 5, Syren.
Right now I am reading Close Encounters of the Third Grade Kind by Phillip Done, a really funny book about Done's 20 years of experience in teaching elementary school. I think it's a book that can be enjoyed by teachers, parents or people who are planning to become teachers or parents soon. I'm definitely enjoying it so far.
If I finish my current read before the end of November, I'm hoping to read any of the following books next…
The Hunger Games by Suzanne Collins
Little Children by Tom Perrotta
Julie and Julia: 365 Days, 524 Recipes, 1 Tiny Apartment Kitchen by Julie Powell