Before I get into this week's question, I thought you might be curious about the results of my little poll last week. For those of you just tuning in, last week I asked which operating system you use on your computer. Why? Because I'm a nerd. And because Lifehacker polled their readers and found that Win 7 was the most popular operating system used among their readers. And my husband declared that was an unrealistic view of which operating system is actually the most widely used. His guess was that Windows XP would be the most widely used operating system if we  could poll everyone. I certainly don't have access to the entire computer using population but I did have access to 8 readers and 10 computer users. And then I found this great website that me make a handy dandy pie chart that is so much cuter than the options that Open Office was giving me (now we get to the root of this, I just wanted to make a pie chart!) And the results are…
My husband nailed it, with the majority of you being Windows XP users. I saw a few "I wish I used a Mac," comments and well since my husband didn't leave a comment there are no results for Linux. But, yes, hands down, XP takes the take, er pie.
So, I thought this whole pie chart thing was super fun and I'm thinking about doing this again. Pioneer Woman does it sometimes and she's like my idol so why not, right? So this week, tell me:
Who is your favorite talk show personality? Ellen, Oprah, the ladies on the View, Regis, Kelly, Tyra, other?
My answer: Without a doubt, I looooove Ellen. I couldn't resist picking up the latest issue of O Magazine since she's this month's co-cover girl. Go Ellen!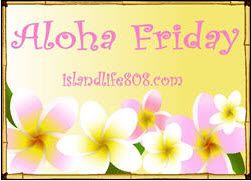 Kailani @ An Island Life takes it easy on Fridays by posting a simple question for you to answer – and she invites you to do the same. Just post your own question on your blog and leave your link at An Island Life. Don't forget to visit the other participants! It's a great way to make new bloggy friends!