I've made my list and checked it twice. I've tried to be nice. I've ordered the Christmas cards, scourged for gift ideas for Mommas Review's Yankee Swap Idea List (coming next week). I've sat with the kids and admired our Christmas Tree while listening to Christmas music each night, and I think I've even finished up our Christmas shopping… Needless to say, I've had Christmas on the brain since, well the week before Thanksgiving at least. I know what everyone else is getting and I know a couple of things I'll be opening up Christmas morning (like this!!!). Yesterday I wrote about my Dream Christmas. To continue with this theme, tell me…
What do you want for Christmas?
My answer: I'd really like to replace my office chair with something a bit more comfortable. I love  this swivel chair at IKEA.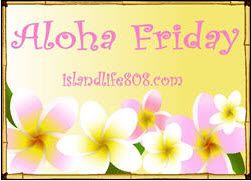 Kailani @ An Island Life takes it easy on Fridays by posting a simple question for you to answer – and she invites you to do the same. Just post your own question on your blog and leave your link at An Island Life. Don't forget to visit the other participants! It's a great way to make new bloggy friends!