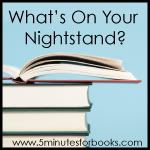 Well kiddos, another month has come and gone and it's time once again for the What's On My Nightstand carnival hosted by 5 Minutes For Books – my monthly reminder that I've become a very, very slow reader and I'm starting to get more books on that old TBR list than I could ever hope to actually read. I long for the days when I will read for more than a half hour or hour at night before bed. Anyway…
I'm currently reading:
Eat, Pray, Love is a book I think many of you have heard of and likely have read before – I am quite late to the game on this one. I had just finished reading about her adventures in Italy and was beginning to read about her time in India when I received a copy of Never Tell Our Business To Strangers to review at Mommas Review in two weeks. So even though I was quite passionately adoring it, I had to put down EPL temporarily and devote my attentions to NTOBTS as it's no small book and it's not an "easy read" in the way that EPL or my usual light fluffy read would be – still it's a very fascinating book and I am enjoying it, although I think my deadline has made it feel more like homework unfortunately. I'm not sure I'll finish it on time but I'm sure as heck going to try!
Anyway…
This month I read:
Easy on the Eyes by Jane Porter – Finished March 5, 2010 – I'm a big fan of Jane Porter. Her books are always so addictive, lush with detail and characters that are so three dimensional. This book dealt a lot with inner and outer beauty, self confidence and self love, learning to trust and learning to throw away past notions and embrace the future. It was, in short, really really good.
And yeah, that's it as I had to put down EPL last week and start a new book, I clearly won't be finishing any other books before the end of the month, but looking forward to the future, after I've finished the above mentioned books, I'm hoping to read the following… Obviously not all of them, but…