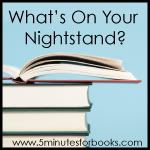 I know I'm two days late in posting this, but I've managed to write a Nightstand post each month for about as long as I can remember, and I didn't want to let a little thing like tardiness get in the way of that winning streak, so without further blah blah blah, here's what's on my nightstand this month:
Since we last spoke I've read the following books:
Last month I also abandoned a book. There was nothing wrong with it, I just lost interest halfway through and had too many other books in my pile and decided to cut my losses, so I never finished The Naked Buddha by Adrienne Howley
Right now I am reading:
If I can manage to finish all those books before the end of the next month, I'll likely pick up the 3rd Percy Jackson book, The Titan's Curse or Nefertiti by Michelle Moran.
What are you reading right now?