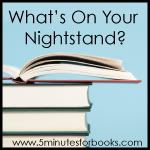 It's time for another Nightstand post, a blogging carnival hosted monthly at 5 Minutes For Books – the premise is pretty simple: write about what you're reading, read recently and / or plan to read in the future.
Here's what I've read in the past month:
The Van Alen Legacy by Melissa de la Cruz - finished May 12, 2011- This series gets more and more interesting with each book. If you are into the whole "vampire genre" I think you will find this a very refreshing, unique take on the genre. Eagerly looking forward to reading the next book!
Breakfast at Tiffany's by Truman Capote (Classics Challenge) -Finished May 16, 2011 - I have a hard time reading books when I've already seen movie adaptations and this book was not much different. It kept me entertained just enough to keep reading with a few differences from the movie and interesting quotes, etc. but on the whole I was a bit bored.
Sweet Valley Confidential: 10 Years Later by Francine Pascal - Finished May 23, 2011 - This book had a lot of potential, with an interesting plot that picks up 10 years later when the Twins are 27 years old, eight months after a shocking betrayal!  Unfortunately I really found this book poorly written, a bit too crass and awfully depressing. Jessica's Valley Girl accent was just too much and none of the characters felt authentic. It felt very teenish except too vulgar for teens.  I don't know… I didn't love it.
I ended up abandoning Anne of Windy Poplars by L.M. Montgomery. I just could not get into this one. It didn't help that I pretty much knew the whole plot thanks to the last Anne movie I watched which included several books (loosely) in one movie, but I've heard others say this was the worst book and several I know did not finish it so I  don't feel too bad about it. I'll definitely continue on with the series later.
Right now I am reading Fifth Avenue, 5 a.m. by Sam Wasson which is all about Audrey Hepburn and the making of Breakfast at Tiffany's. I have to say I am actually liking it so far more than I liked reading Breakfast at Tiffany's – darn me and seeing movies before reading the books! Anyway, when I finish it I plan to read:
What are you reading now?